Pressure washing is one thing that many homeowners consider but might need to learn more about. Pressure washing is a great way to get the exterior of your home clean and looking like new. With this being said, a few things need to be known about pressure washing, especially one of which is how long it will take to pressure wash a house. So let's dive in and check how long it takes to pressure home and what factors can affect this.
What Is Pressure Washing?
Pressure washing is the process of using a pressurized water system and detergents to clean the exterior of your home. A power washing company will send an expert out that can use their methods to clean the surface of your home, whether that be the actual siding of your home, the concrete areas around your home, or your driveway. It's a popular way to clean these delicate parts that are exposed to the outside elements without needing harsh chemicals or other things that can destroy the outside of your home.
How Long Does It Take To Pressure Wash A House?
Pressure washing is relatively quick compared to how much surface area is cleaned. However, this process can still take a couple of hours to complete. On average, a pressure washing job can take anywhere from 30 minutes to 4 hours. Now, this can vary based on a few factors since a lot goes into the power washing process.
Factors That Affect Pressure Washing Time
As we said, there are a few different factors to consider when figuring out how long it will take to pressure wash your home. When it comes to house pressure washing, you should consider these factors when determining how long it'll take for your particular house:
Square Footage
The first and most crucial factor to consider is the square footage and size of the cleaned area. Of course, the more surface area needs to be cleaned, the longer it'll take. This area should be measured based on what areas will be cleaned. So you should consider the size of your home and the size of the areas outside that you'd like cleaned, such as pool decks or driveways as well. This includes vinyl siding and more sq. footage for multiple stories.
Here is an estimate for how much time it will take based on your square footage, but remember that it is just an estimate and can vary between power washers.
1,000sqft - 30 minutes to 1 hour
1,500sqft -30 minutes to 1.5 hours
2,000sqft - 1 hour to 2 hours
2,500sqft - 1.5 hours to 3 hours
3,000sqft - 2 hours to 3 hours
Type of Equipment 
Sometimes it can depend on the equipment used. For example, some pressure washers can put out more psi than others, meaning they will take a little less time to clean than others with a lower PSI. So based on the company itself, the timing might change.
Cleanliness
The overall dirt buildup and cleanliness of the home and areas looking to get pressure washed can also factor into the time it takes. This is because if it is extra dirty or there is build-up on the home, it can take extra time, power, and resources to complete the cleaning. Making sure to consider how dirty the areas are can help you to expect them to pass over the sites once or more than once if needed. The team that completes the job will need to use a little more elbow grease to remove dirt and tough mildew stains.
Cleaning Company
Now, the pressure washer that does the cleaning process can do it differently. Ultimately, we mean that you'll want to know how many cleaners will come to your home to complete the project. Sometimes companies send one cleaner to a home at a time, while others send out multiples. If multiple cleaners are sent out, you can expect the job to get done quicker than if just one cleaner was sent out.
The Weather
The weather, believe it or not, can affect the timing of pressure washing your home. If the weather isn't great for some reason, the appointment itself may need to be rescheduled. That said, if the weather is even slightly rainy, windy, or for some reason otherwise causing problems, the power washing service can take a little bit longer than anticipated.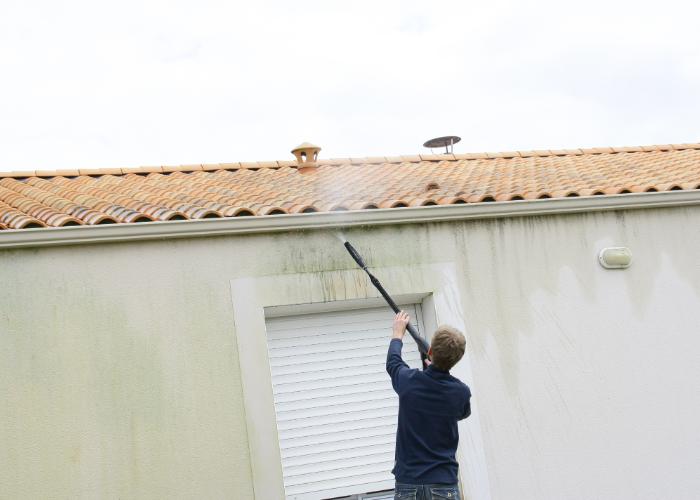 What Is The Best Month To Pressure Wash A House?
When considering power washing, you want to book your appointment for cleaning when it's most convenient for you but also for the company. The best time to secure a power washing appointment is between March and November. This is because the company is working hard to get things cleaned because of the summer and spring months again. So you'll want to book your appointment when they aren't too busy but also when the weather is good.
Is It Worth It To Pressure Wash A House?
After considering how long it'll take and the factors that can affect this, we think it's worth it to pressure wash your house. It's a great way to clean the exterior of your home without needing a lot of scrubbing power. There are so many different benefits to pressure washing a house. It's quick and easy, plus it doesn't cost too much for the cleaning that gets done. So if you were contemplating getting pressure washing done at your home, we recommend it.
The Bottom Line
Now that we've discussed all of the factors to be considered when determining how much time is needed to pressure wash your home. Ultimately it's good to know how much time it'll take because power washing can take a few hours, especially if you have a larger area to clean. So if you were wondering how long pressure washing will take, we hope you can try to determine a time based on the particular factors of your home.
Call a power washer from Largo Pressure Washing Services to get the job done. We utilize soft wash cleaning solution and take our time with hard-to-reach areas so that your property looks its best. Tough stains are no match for our power wash company! Give us a call today, and we'll provide you with an over-the-phone quote for your whole house.